While in Montreal, I collaborated on a project investigating urban space and 'situated nostalgia' by way of sound. With my colleagues, Danica Evering, Leticia Trandafir and Felix Norton-Barsalou, and our supervisor Professor Owen Chapman, we explored a neighbourhood that had been restructured to symbolize Jean Drapeau's 'world city' project of cosmopolitan progress.
Such a space, a failed one as I saw it, was the Montreal Olympic Stadium. Over several weeks, we mapped and explored the grounds, discussed literature on spatial experience, experimented with locative tools, and prepared electroacoustic compositions to share with a team of residents, sound artists, and researchers exploring their own site in Morecambe, UK (part of a long-distance soundmapping collaboration called Echoes and Reflections: A co-located soundmapping venture between Morecambe and Montreal, programmed by the Centre for Mobilities Research at Lancaster University).
Both Morecambe seashore and Montreal Olympic Stadium had aimed, and failed, to be tourist hot spots in the past. Now we were investigating the nostalgic aura of these sites.
I joined forces with Danica Evering as field partners, creating an imaginative playground of the grounds through a series of mental explorations, acoustic experiments, and bodily repetitions of the site. Grappling less directly with nostalgia at first, I wondered why the cement complex inspired feelings of awe in me, despite my increasing knowledge of its logistical failure and social grotesqueness. I noted the wasteful energy that powered the massive, empty building and heard voices echoing from bare cement where nothing living thrived, despite the complex's (categorically separated) botanical gardens and biosphere, and its slogan, L'Espace pour la vie, Space for Life.
Still, I observed my sense of force from the tower (for example, against the clouds or blocking the sun) and my simple satisfaction at the curve of a ramp. I found my storytelling instincts hanging in the geometries of the space, beside the layered meta-narratives and messages installed by the city (tattered banners asking us to ignite the flame, stacks of bus shelters and bike stands glimpsed through tinted basement windows, yellow caution tape, a leaf scuttling or pigeons fluttering improbably amplified in dark recesses of underground garages, the slyness of reconfigurable barrier systems popping up in new places).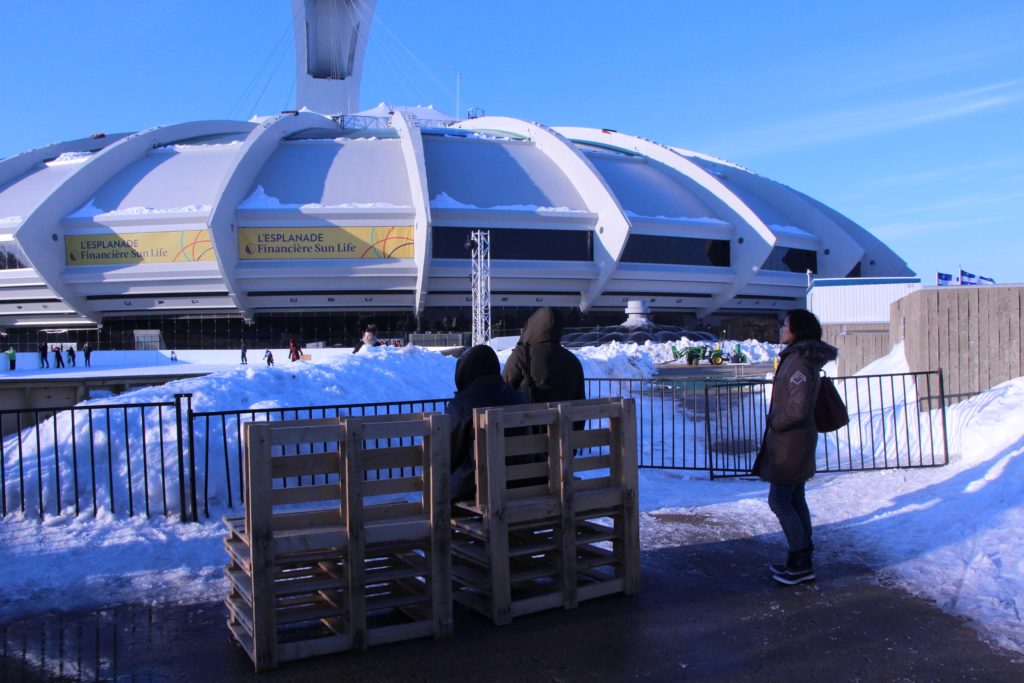 Disregarding the wishes of residents, the stadium designers first approached space in geometric and symbolic terms, manifesting imagery despite a massive failure of engineering with the stadium roof (even as its leaning tower was proudly touted as superior, lean-wise, to Pisa). Since then, it has never turned a profit and remains a well-cited case of municipal fiscal incompetence.
Yet the brutal shapes and spaces resonated with something subterranean for me, triggering associations. Somehow the cement diorama, awash with airplanes, further produced a dreamy stage for my contemplation. Or was my listening and dwelling practice turning this place into a stage for contemplation? Some of my responses to the architecture resonated with familiar shapes of religion (for me, imprints of the past). The orders of knowledge housed in the plaza–observatory, botanical gardens, biodome–also slid cleanly into that divinely modern configuration. Ultimately, I found myself in another familiar triangle (between historical knowledge and temporal, poetic, sensory experience) and allowed myself to turn my inquiry towards my own programmatic responses to space and narrative impulse.
Note: these reflections are being compiled from project notes. Conclusions and footnotes are being added as time permits