[See the Montreal project
here
]
Returning to Vancouver after the stadium fieldwork in Montreal, I continued to think about how shapes and symbols of Montreal Olympic Stadium told a story—a forceful story—and how listening and attending to my embodied presence changed space and knowledge viscerally for me. I connect this also to an investigative urge that desires information about the past, which dramatically illuminates the stories written in my imagination and my understandings of why things are where they are, including boundaries and access priorities.
Collaborator Danica Evering and I had taken similar approaches to the Olympic Stadium project, wandering through its grounds recursively and exploratively, playing with the all-too-ready analogies to spaceships and futures past, as its tower jutted among drifting clouds. We considered how our own bodies and voices interacted with the site, making noise and singing. Who was there, who wasn't? The space was partitioned on one of our visits for a pop-up playground (you can hear the PA system in the audio composition). We mostly  heard the vast, buzzing energy waste that filled what had just been a neighbourhood–and land of the Kanien'kehá:ka for much longer before that.
My neighbourhood in Vancouver tells me a quieter story than the plaza in Montreal. It's a story of gentrification, of course. It resembles the Olympic Stadium—and other shifts in tenure—in the way ownership of space can be lost collectively and unwillingly. Of course, this is the story underlying Canada as a project at its roots of colonialism.
Another similarity for me was in listening for energy flow. There, it manifests in the humming of the massive Olympic building, and here, in the form of port industry and highways that hem the neighbourhood with flows of transit outwashing the ocean.
But there are differences. While exploring the stadium grounds in Montreal —designed to be iconic yet neutral for tourists, like an elegant space-port—I was open to magnificence, even while critical. Here—a slap of paint calling it 'Port Town' and houses crumbling to be replaced with fancy eateries—I recoil from public space faintly. I noticed after struggling to find housing security over years that I feel disconnected and even hopeless about the possibility of entangling some where in a symbiotic, long-term way. East Vancouver has been my long-time backyard, yet it's hard to call the place 'home' because rental housing is so insecure. The new property owners ate our figs. Is it like that everywhere? The irony of these observations does not escape me, either, knowing that this soil is bound to the rights and histories of others.
I find one antidote to alienation has been friendship, which tethers people between sites, along with their knowledge and memories, and creates something secure and hybrid, something able to shift. It was through alienation and friendship that I revisited the fieldwork I did with Danica in Montreal and the continued exchange of situation we've shared in our correspondence. Looking back on time from different places, we recast the past and link our current situations.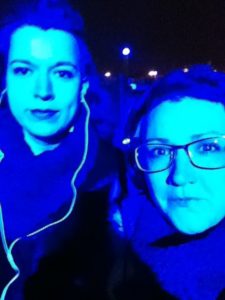 Process notes:
Summary: The montage was meant to be played in headphones while wandering the neighbourhood, a collective tour which we hosted publicly thanks to Vancouver New Music and the Vancouver Soundwalk Collective on April 29, 2018. To invite strangers into a personal and alien experience of space and time means to engage them in creative nonfiction. We mashed Danica's original composition of Montreal Olympic Stadium with my recent field recordings of the Powell Street port and rail area, along with reflections. While we move with the track, we draw attention back and forth from the location of our bodies, memory, and imagination. Our minds and narratives wander. Maybe our guests also feel dislocated and a bit uneasy, joining us here. We end the walk without headphones, regrounding ourselves in the neighbourhood.
Drafting: Since the walk, I've re-edited the track to improve the script (trimming several lines), adjust volume levels, and incorporate feedback. After valuable feedback, I added drama to the beginning of the track and heightened moments throughout. Most notable additions are samples of the same rail line (I've worked with it in other projects), which were taken further east via cellphone recording. (They also seemed fitting, as Soundcloud had auto-played some of this footage after the soundwalk file ended, according to one participant).
Mixing/Headphones: About mixing, I'm always learning after the deadline about pitfalls of scaling. The timeline was a few weeks, but refining levels for a group walk is difficult when a site's activity is variable (trains one day, but not the next, and so on). Timing when to boost soft bits proved tricky and unpredictable, so next time I would reconsider whether to try to manage this. We also offered over-the-ear headphones, which most attendees refused, wanting more bleed-through from the present environment.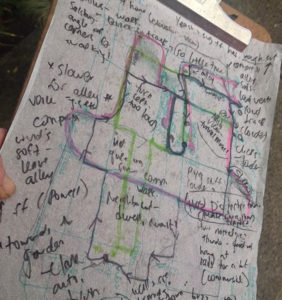 This raised some interesting questions for me: first of all, would I mix differently expecting earbuds to be preferred? And more importantly, was there a familiar perception of how an electroacoustic walk would work (i.e., blending with the environment vs an exercise in masking or challenging its soundtrack) and would it be useful to discuss this in advance of a walk?
Playback: There was a similar balance to consider between control and flexibility when it came to playback device. Having participants use smart phones was accessible in the sense that the organization didn't have mp3 players for large groups, so it meant more people could attend. We tried to also make it easy for people without smart phones by offering to procure gear on request. However, using the phone meant that participants might have different preferences (downloading vs streaming) which might affect playback details (pop-up ads, different start/buffering delays, or auto-play settings).
April 29: About twelve of us left from Triumph Street in front of the uncharacteristically subdued Parallel 49 (a quickly expanding watering hole whose brewery floodlights and odours dominate the block). We wandered the fish packing alleys, where the smell of rank fish corpses coincided with Danica's audio narration asking if we heard the ocean. We walked through a parking lot perpendicular to the rail line, watching the tracks from the fence before following the traffic artery of Powell Street east. At Semlin we veered left into Cambridge Park, where we settled into a park space overlooking the grain loaders and port facilities from the slope. At that point, the recording ended, and we continued without headphones through the quiet neighbourhoods of Hastings Sunrise north, making a loop back to the starting point.
The weather was damp and grey, following several days of unexpectedly warm sunshine. The patios were now empty and parks unattended in the gloom. The world had a socked-in, "morning after" feeling. Not only did the digital mix feel strangely hollow at points in relation to this calm, the acoustic portion of the walk felt uneventful to my senses, compared with the practice runs. I realized the extent to which the virtual presence of weekday sounds coloured my expectation for this Sunday, despite my own explicit note on the stark contrast between working and recreation hours that could be observed in this locale.
I also reflected on my expectations around "delivering" a soundwalk, particularly my first effort at incorporating a recording. I felt that I was failing to deliver features where I felt the sharp contrast between the present emptiness and the 'ghosts' of sounds that had joined me on previous excursions.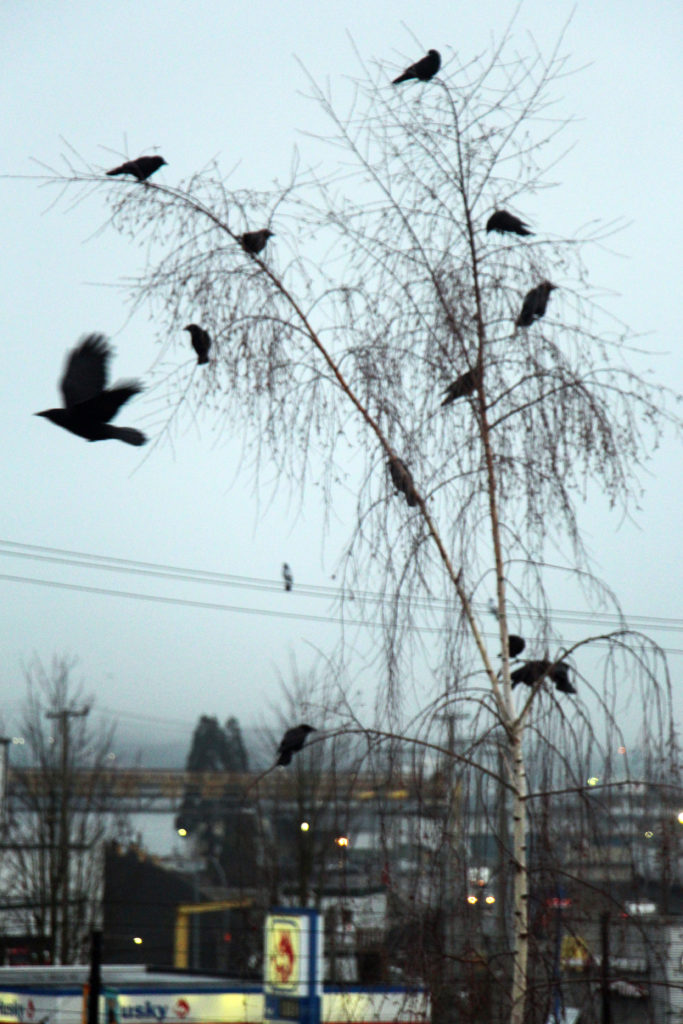 Despite the stillness, it was encouraging that all participants lingered at the end of the walk to discuss and debrief. Much of the feedback included sharing moments of sharp sensation or surprised expectation. Some participants also commented on the presence of sadness in the track. I felt the sad tone was echoed by the weather rather than running counterpoint to an active neighbourhood scene that I'm used to encountering here. It's worth noting that the composition and testing period took place in brighter weather; in a strange way, this atmospheric underscoring made the confessional aspect of the audio composition more vulnerable for me. Noticing this discomfort is helping me articulate how I hope to include personal and fantastic elements in the way I study space and place.